Musa Rajapuri
From Bananas Wiki
Cultivar Name
Musa 'raja puri'
Synonyms
Pictures
(credit the flying dutchman)
(credit Gabe15)
(credit Gabe15)
(credit Gabe15)
(credit Gabe15)
(credit Gabe15)
(credit Dombo)
(credit Dombo)
(credit Dombo)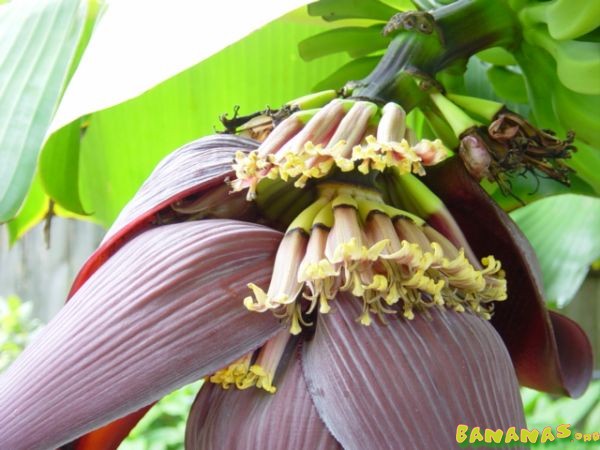 Raji Puri Male Flowers (credit sbl)
female flowers, color can be variable (credit: Mike Wang)
Rajapuri Choking: the bunch bursted out of the side of the pseudostem instead of emerging from the top of the plant. Credit: Mike Wang
Credit: Mike Wang
Rajapuri doesn't usually require propping, unless you have a very heavy bunch. Credit: Mike Wang
Description
The 'Rajapuri' is small at 6 to 8 feet tall. This plant that originated from India is a first choice for landscaping. The plant is totally green, has a very thick stem and stands up very well to wind. The leaves are wider than those of most bananas, growing up to 3 feet wide. It is the best plant to grow in marginal areas or where a grower does not intend to put much care into the cultivation of bananas. The heads of fruit are of moderate size with medium sized fruit. This tasty banana chokes easier than Orinoco. Choking is presumably caused by fluctuations in temperature, growth rate, or both. It is very cold hardy, and the leaves will not turn yellow even with a light frost. It will grow and produce even in the poorest soil. Not recommended for South Florida due to Black Sigatoka. The fruit can be used fresh or green.
AAB
Origin
India
Usage
Dessert banana
Flowering
Time To Bloom - Outdoors in Northern California, ~3 years after hardening off a tissue culture start. Definitely much faster in tropical and subtropical climates.
Time To Harvest -Outdoors in Northern California, ~7 months at the fastest, really depends on when it fruits, and how warm the grow season is. For sure it's much faster in tropical and subtropical climates. Compared to other cold hardy banana varieties, this one is pretty quick!
Cultivation
6-8
8-9
Good cold tolerance, and easier to protect due to lower height.
Cold Hardiness Personal -
Wind tolerant, the Rajapuri leaves do not get shredded very badly in strong winds.
Full sun
Taste Description -Optimal flavor about 1-2 days at room temperature after the fingers turn yellow. At peak ripeness, flavor is sweet with a tangy background, very good quality!
Growth tips In cooler climates, be careful with over watering and overfeeding this variety: since it's a true dwarf, the growth rate and consumption of nutrients is slightly lower than a regular sized banana.
Known Afflictions
Borers, grasshopper and root nematodes
Panama disease and black sigatoka
Research Notes
Links to useful discussion threads in the forum:
Members Growing This Banana
External