Ensete Perrieri
From Bananas Wiki
Cultivar Name
Ensete Perrieri
Synonyms
Pictures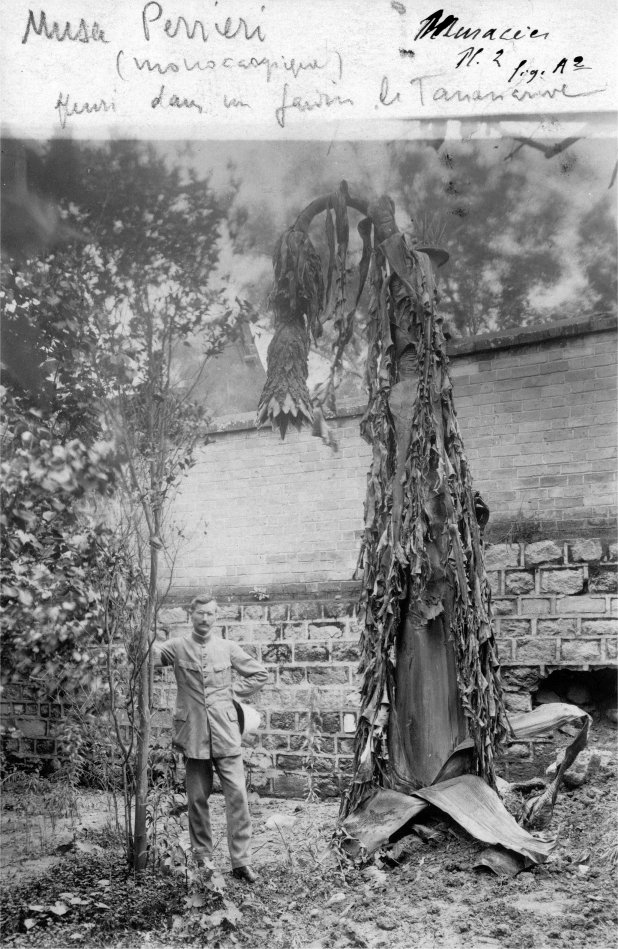 Description
Plant 6 - 7 m. (ca. 20 ft.) tall, pseudostem to 4 m. tall and 2½ ft. in diameter at the base. The colour of the sap pink in outer sheaths and violet-red in inner sheaths. Inflorescence big, dense and pendulous. First bracts have a short blade. Bracts oval and varying in colour (green, yellow, pink or violet). Flowers 18 - 20 per bract. Male flowers with 5 perfect and 1 abortive stamen. Free petal 3-lobed, median lobe acute, lateral lobes rounded. Fruits very numerous (up to 210/bunch), 4 - 5 in. long and about 1 in. thick, with a thin layer of yellowish pulp. Seeds numerous, black, 1/3 in. or 8.3 mm. in diameter, irregularly ovoid, warty, with a large hilum and a depressed micropyle.
"They grow in the more dry regions with temperature fluctuations - not in the rainy north part of the Isle." per the Flying Dutchman
Origin
Parc National de Bemaraha Madagascar, Mahajanga Province: Plateau d'Ankara, 17°6'S 46°6'E, Feb. 1905, H. Perrier de la Bâthie 1796 (HT: P).
     Coming up soon

Usage
Flowering
Cultivation
Cold Hardiness General -

Cold Hardiness Personal - Not cold hardy
      Annual year-temperature 25-28 celcius       (77-82 fahrenheit)
      Lowest temp in july 9 degrees celcius       (48    fahrenheit)
      Highest temp in december 38 degrees celcius (100   fahrenheit) 

Rain 1000-1500 Milimeter annual
      The parc is surrounded by lime-stone mountains.  

Known Afflictions
Research Notes
Links to useful discussion threads in the forum:
Members Growing This Banana
External
http://www.parcs-madagascar.com/bemaraha/bemaraha.htm
http://www.efloras.org/florataxon.aspx?flora_id=12&taxon_id=242417932
http://www.leroi-du-palmier.com