Musa Super Dwarf Cavendish
From Bananas Wiki
Cultivar Name
Musa 'Super Dwarf Cavendish'
Synonyms
Musa Acuminata "Novak" "Druiting Drawf" Musa tropicana
Musa 'dwarf chyla'
Bananarama
SDC
Pictures
Tiny SDC with 7 pups
]
(credit the flying dutchman)
(credit MediaHound)
(credit bigdog)
(credit tropicalkid)
(credit Gabe15)
(credit Gabe15)
(credit Gabe15)
(Novak)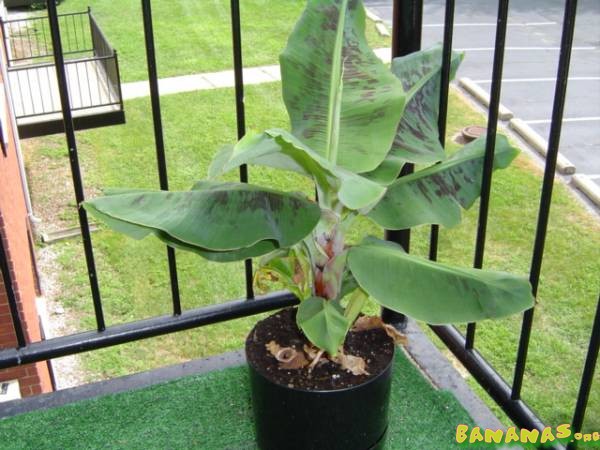 (credit tropicalkid)
(credit steven)
Description
The Super Dwarf Cavendish banana is a cultivar descended from the banana cultivar group of commercial produce, the Cavendish. They are often grown as houseplants and produce slightly smaller edible bananas than other Cavendish cultivars. The name 'Super Dwarf Cavendish' is in reference to the height of the pseudostem, and somewhat the fruit (which are smaller sized). Young plants have maroon or purple blotches on their leaves but quickly lose them as they mature.
Super Dwarf Cavendish plants grow up to a height of about 2 ft (2/3 m). The leaves are broad with short petioles. Its extreme shortness makes it stable, wind-resistant, and easier to manage. An easily recognizable characteristic of this cultivar is that the male bracts and flowers are not shed.
The fruits of the Cavendish bananas are thin skinned. Each plant can bear up to 90 fingers. Reference: Wiki.org Dwarf Cavendish banana
AAA, Eumusa
Origin
Land race
Usage
Flowering
Cultivation
Mature Height - about 2 ft (2/3 m) **pstem**
Survival Zone - Hardy to Zone 9 and higher for outdoors.
Fruiting Zone - Full or partial sun, grows to 18" in container, minimum temperature 40° for indoors, intermittent bloomer.
Cold Hardiness - Minimum temperature 40° for indoors.
Wind - Its extreme shortness makes it stable and wind-resistant.
Sun - Full or partial sun, but full sun is recommended for fruiting.
Taste Description - Similar to a common supermarket banana but a little smaller.
Known Afflictions
Pests - Spider mites under dry conditions.
Susceptible Diseases - Normal root and leaf disease associated with excessive moisture.
Research Notes
Typical Price Range - $12 USD
Members Growing This Banana
External
en.wikipedia.org Dwarf Cavendish banana