Two of my favorites in one. Cheese can really go well with anything.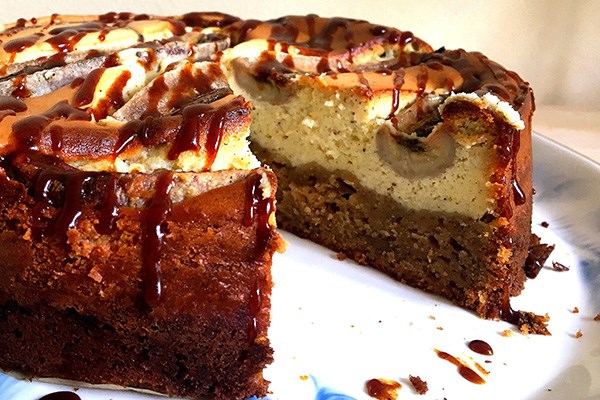 Banana Bread Base
2 cups all-purpose flour
1 tsp baking soda
½ tsp salt
½ cup unsalted butter, room temperature
1 cup brown sugar
2 tsp vanilla extract
2 large eggs
3 ripe and brown bananas, mashed
½ cup sour cream
1. Preheat oven to 350ºF. Grease and flour a 9-inch springform pan.
2. In a medium bowl mix to combine flour, baking soda and salt. Reserve.
3. In the bowl of an electric mixer, cream butter and brown sugar until light and fluffy, about 2 minutes. Beat in vanilla, then eggs one at time. Continue to beat until mixture is combined. Mix in ripe and brown mashed banana and sour cream.
4. To butter and banana mixture, beat in flour mixture and until just incorporated. Transfer mixture into prepared pan. Smooth top and set aside.
Cheesecake Topping
2 (250g) blocks cream cheese, room temperature
⅔ cup granulated sugar
½ cup sour cream
1 tsp vanilla
3 large eggs
2 semi-ripe and yellow bananas
1. In the bowl of an electric mixer, beat cream cheese, sugar, sour cream and vanilla until mixture is smooth and creamy. Beat in eggs one at a time, until fully combined. Pour cream cheese mixture over banana bread batter. Smooth top.
2. Peel and split the semi-ripe and yellow banana in half lengthwise and place split side up on top of cheesecake batter.
3. Bake until cheesecake top is golden brown and wobbles only slightly when tapped, about 1 hour 20 minutes to 1 hour 30 minutes. Remove from oven and let cheesecake cool for a minimum of 1 hour, preferably longer. Unhinge springform pan and carefully transfer cake to a serving platter. Refrigerate at this point, if desired.