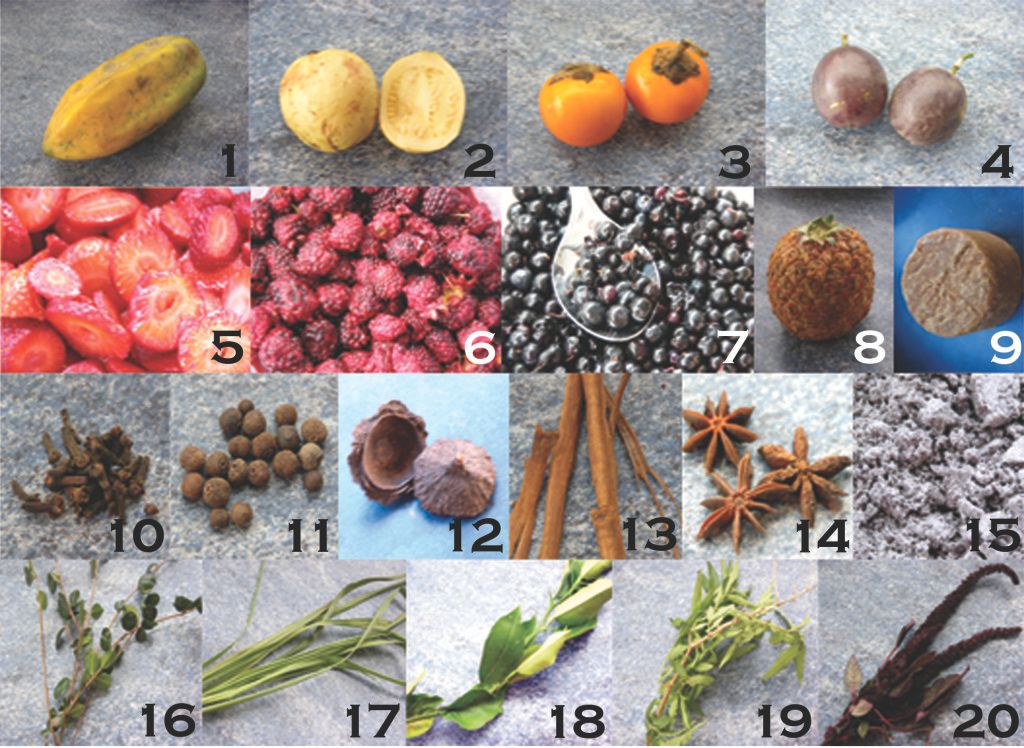 Colada Morada
is an Ecuadorian traditional fruit compote, normally made in late October and early November for the day of the dead (it is one of the traditional dishes shared with your dead relatives.) The accompaniment to it is called a Bread Baby, basically a cheese-filled sweet bread shaped like a swaddled child. Kind of creepy, but very very tasty.
Some of the ingredients will be difficult to source outside of Ecuador, so I have provided acceptable substitutes in brackets behind them. Each of the ingredients are pictured above.
Ingredients for about 1 gallon
1. 1 Babaco, ripe (this may be omitted but will impair setting)
2. 6-8 Large Guavas of any type
3. 6-8 Naranjilla (optional, or substitute bitter citrus)
4. 12 Small Maracuya or 6 Large ones (other passionfruit)
5. 2 Lb Strawberries
6. 2 Lb Mora (blackberries or black raspberries)
7. 1/2 Lb Morti˝os (blueberries)
8. 1 Large Pineapple or 2 Small ones
9. 3 Lbs Medium Panela (3 Lbs brown sugar, Demerrera)
10. Cloves
11. Pimiento de Olor (black pepper)
12. Ishpingo (can be omitted or substitute more cinnamon bark)
13. Cinnamon Bark
14. Star Anise
15. 1 Lb Blue Cornflour, Fine (other cornflour, fine milled)
16. Arrayan (a type of Myrtle)
17. Yierba Luisa (aka Lemongrass)
18. Orange Leaves
19. Cedron (Lemon verbena)
20. Sanguarachi (Red Amaranth)
Kitchen Gadgets
A blender
A strainer of fairly fine mesh
A large (ie more than 1 gal) pot
A smaller (ie less than 1 gal) pot
A stove
A large wooden spoom
A spatula
A sharp knife or two
Method
1. Put the herbs (items 16-20) in the smaller pot, cover them with water, and set them over medium heat until they have boiled for about 20 minutes.
Meanwhile...
2. Clean all of the fruit. Peel the guavas, pineapple, and babaco. Remove stems from the Naranjilla, Morti˝os, Moras, and Strawberries.
3. Blender each of the fruits, separately, using the herb water to liquify the juices a bit. Strain each juice to remove seeds and skins. Add the liquids to the large pot. Don't blender the strawberries, slice them in to chunks.
4. Place the large pot on the stove over low heat. Drop in the sugar block (or if you're using milled sugar, gradually stir it in) and stir until it's all dissolved. Throw the spices (items 10-14) in. If you have leftover herb water, throw that in too.
5. Once the sugar is fully dissolved, take about half of the mixture out of the big pot, and stir in the cornflour until the mixture is homogenous. Return this to the big pot and stir some more, until the whole thing starts to set (the way jam would.)
6. Depending on your personal tastes, you can take the spices out at this point, or leave them in. People who like a spicier colada leave them.
Colada is normally served hot with fresh bread babies, but is just as good cold on fruit salads with yogurt, or as a cold beverage.