I have several musa basjoo that I usually overwinter in the greenhouse each winter. This happened a few times last year, but it's really happening this year. The problem is, a leaf stops unfurling.... sometimes half way, 3/4 or barely opened. Then over the course of the next month, the plant declines and dies to the ground. It is then replaced by another pup which grows rapidly. Well, now the pup has exhibited the same symptoms and a new pup appeared!
I decided to take a few pics after cutting the stem down, and here's what I found just an inch or so above the ground.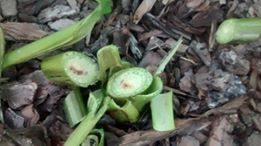 And just further down.
What's causing this rot to get into the middle of the stem? They were wintered in greenhouse, planted in May and ones right next to them seem fine. Pretty ideal growing conditions.