Hey all, it's been a while!
I dropped by the university garden this weekend where I was growing bananas a couple of years ago, and I picked up two large Blue Java corms from one of the mats I originally planted. They are the real deal - I originally got the mother plant from Encanto Farms. I had lots of success growing bananas up there in the Bay Area, but not a lot of luck back at home in Los Angeles.
I potted these Blue Javas up tonight so that they can get reestablished prior to going in the ground. I used a mixture of cactus mix, native soil, perlite, and fertilized with a handful of Azomite each. I am watering with a dilute solution of liquid seaweed extract to help stimulate the growth of new roots (a neat trick I picked up from the hydroponics/aquaponics universe). The mat had definitely seen better days, and these guys had very few healthy roots when I pulled them out. However, the corms are nice and big and are already sending out pups, so I am hopeful that I can nurse them back to health.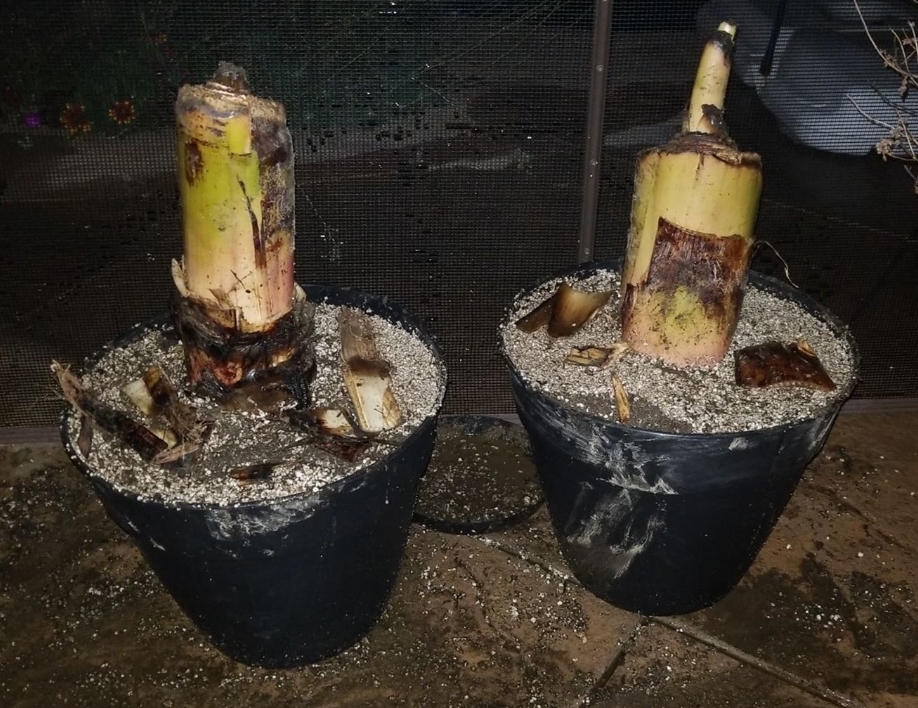 I am planning on giving one to a few work colleagues in Long Beach who run an organic farm, and I may keep the other one for myself. Previously, when I tried to grow bananas at home in the LA area, I was unsuccessful due in part to what I believe was a perfect storm of unfavorable conditions. The soil here in the foothills is like cement, with a nearly impenetrable layer of clay that begins about 10-12" down. Even most fruit trees do terrible here - the lemon and fig trees in the yard have stayed the same size for 10 years. Only the pomegranates are thriving. Worse yet, every fall the Santa Ana winds would tear the leaves to shreds. We get 50+ mph gusts on a regular basis during the windy season. Every year the banana plants would be battered by wind and then sit in water for weeks at a time. I got excellent growth out of the bananas for a year or two, but after having to deal with repeated exposure to wind, rain, and cold while growing in some of the worst possible soil, they just didn't recover.
But if I am able to convince my parents to let me plant one of these, I'm going to approach this with forethought I gained from my previous failure. Not only that, the decaying roots from the banana plants I previously had did an excellent job of conditioning the topsoil as they have broken down over the past couple of years. I'm working on developing a gameplan for getting bananas to grow in the adverse conditions here. At the very least, I am going to get these guys going and make sure they end up somewhere where I can look after them on a semi-regular basis.
What's more is that I now have a brand new aquaponic system at my house (an excellent workaround since my soil is terrible, as I no longer need soil to grow vegetables). In the years that have transpired since I have frequented this forum, I have been bitten by the aquaponics bug and now make a living building and servicing aquaponic systems on a contract basis. Water from an aquaponic system is basically liquid fertilizer that is chock full of beneficial microbes. Once my aquaponic system is mature enough, I'm going to plan on dumping water from it onto the bananas on a regular basis to give them an extra boost.
I will keep everyone updated!